අද අරන් ආවේ තාම PC version එක ආවේ නැති Hitman 2016 ගේම් එකේ

Walkthrough Gameplay ටික අරගෙනයි. ගේම් එකනම් පට්ටම තමා.. වෙන ඒවා වගේ නෙවේ මේ පාර ගේම් එක EPISODES විදියට තමා එන්නේ.. අද ගෙනාවේ Episode 4 එකේ full GamePlay එක...
පලවෙනි එක බැලුවේ නැත්නම් මෙතනින් යන්න...
කලින් ආපු ගේම්ස් ටික තාම ගැහුවේ නැත්නම මෙතන ලින්ක් එකෙන් යන්න...
Hitman (2016) Episode 4


System Requirements
Minimum:
OS: OS 64-bit Windows 7

Processor: Intel CPU Core i5-2500K 3.3GHz / AMD CPU Phenom II X4 940

Memory: 8 GB RAM

Graphics: NVIDIA GeForce GTX 660 / Radeon HD 7870

DirectX: Version 11

Storage: 50 GB available space
Recommended:
OS: OS 64-bit Windows 7 / 64-bit Windows 8 (8.1) or Windows 10

Processor: Intel CPU Core i7 3770 3,4 GHz / AMD CPU AMD FX-8350 4 GHz

Memory: 8 GB RAM

Graphics: Nvidia GPU GeForce GTX 770 / AMD GPU Radeon R9 290

DirectX: Version 11

Storage: 50 GB available space
වැඩි විස්තර ඕන අය ඉන්නවානම් මේන්න තියනවා
Episode Four Release Timings
HITMAN: Episode 4 Bangkok releases worldwide across PlayStation 4, Xbox One and Windows PC on August 16th at 13:00 CEST / 4AM PDT.
Episode Four: Bangkok Release Notes
New Destination: Bangkok

New Story mission: Club 27

8 new Opportunities for "Club 27"

20 levels of Bangkok Mastery, with the following unlocks:

8 new Bangkok Starting Locations

9 new Bangkok Agency Pickup Locations

6 new weapon/gear unlocks

New suit for Bangkok: Casual Suit

65+ Bangkok-specific challenges

7 new trophies/achievements

New 'The Sarajevo Six' Contract. Target 4: The Veteran. (PlayStation 4 Exclusive)
Live Content for Bangkok will include: New Escalation Contracts, Elusive Targets and New Featured Contracts (Contracts Mode).
General Improvements


You can now search for player created contracts via the contract lookup feature. Each new player created contract will feature a new contract ID. Anyone on the same platform (PlayStation 4, Xbox One, or PC) can use that ID to pull-up and play the contract in question.
You will receive a notification message if the contract utilises episode content that you do not own

Access to the contract tutorial has been moved to the "Create Contract" page to make way for Contract Lookup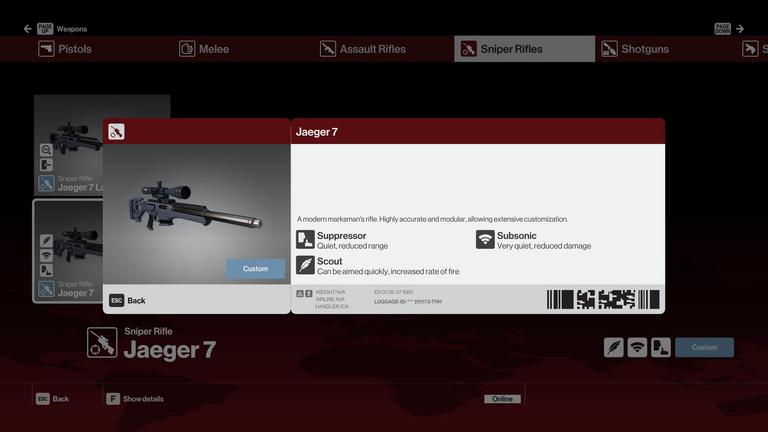 We've had plenty of people wanting to see more information about each weapon available to Agent 47 before he embarks upon any of his death-dealing excursions. We're happy to say that we now provide additional information about each of these items prior to stepping across the globe into one of HITMAN's destinations.
Pop-Up Message Improvements
Pop-Up messages within HITMAN have received an overhaul. They're now much more consistent in the terms of information provided, as well as their overall structure.
Misc Improvements
Loading screen indicators have been updated to behave in a much more consistent manner

Story and Mastery pages now highlight your most recently unlocked section by default

More loading screen tips have been added to the game

A patch notes tile has been added to the top left section of HITMAN's featured menu. Selecting this tile will open the game's latest patch notes in your web browser.

The Square Enix Membership tile is now removed once you have linked HITMAN to your Square Enix Membership account

It is now possible to navigate any tiles that scroll in the featured menu, using left and right triggers/mouse wheel

Challenges from challenge packs are now grouped together

Elusive Target challenge images have received minor visual updates

Checkmark and forward/back UI menu elements have had colour/transparency consistency improvements

Should you experience a disconnect while in an in-game menu, you will now be provided with the opportunity to reconnect before leaving the session.

Stability improvements have been made to launching contract missions

General performance optimisations have taken place

Additional stability improvements have been made to backend servers
Fixed Issues
"Not in the Guidebook" achievement can now be earned when opportunity notifications are turned off

End of mission scores now correctly reflect any non-target kill penalties incurred

Some rare occurrences of NPCs choosing to stop in a single location, rather than continuing to walk along their way, have been fixed

A bug that sometimes prevented players from saving their created contract has been fixed

Various localisation improvements have been made to Achievements and Trophies

Paris - Fixed an issue where Sato does not react after save/load

Sapienza - Fixed an issue where NPCs could be trapped inside stairs if subdued

Fixed a clipping issue that occurred when subduing enemies from cover

Fixed a rare occurrence wherein which an NPC would ignore a thrown prop