අද අරන් ආවේ තාම PC version එක ආවේ නැති Hitman 2016 ගේම් එකේ

Walkthrough Gameplay ටික අරගෙනයි. ගේම් එකනම් පට්ටම තමා.. වෙන ඒවා වගේ නෙවේ මේ පාර ගේම් එක EPISODES විදියට තමා එන්නේ.. අද ගෙනාවේ Episode 6 එකේ full GamePlay එක...
කලින් ආපු ගේම්ස් ටික තාම ගැහුවේ නැත්නම මෙතන ලින්ක් එකෙන් යන්න...
Hitman

Walkthrough
Hitman (2016) Episode 6


The HITMAN SEASON FINALE arrives next week on October 31st!

In Episode 6: Hokkaido, Agent 47 will travel to Japan and must locate two targets in this climactic Season Finale.
The Hokkaido location is set within the grounds of the hyper-exclusive GAMA private hospital and resort. This secluded facility is a fusion of Japanese beauty and cutting-edge technology, featuring its own Zen gardens, organic sushi restaurant and traditional Japanese hot spring.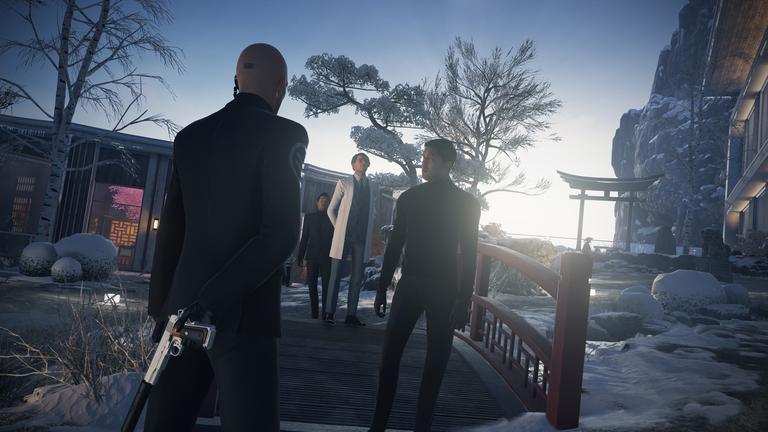 Episode 6 Release Timings
HITMAN - Episode 6: Hokkaido releases worldwide across PlayStation 4, Xbox One and Windows PC on

October 31st 2016 at 15:00 CET / 7AM PT

.
Note: Daylight Savings Time in Europe ends
a
nd the clocks are turned backwards 1 hour
at 2am on October 30th
, the day before Episode 6 releases.
Starting at 11am CET on October 31st, the HITMAN servers will be down for maintenance as we prepare for releasing Episode 6. During the maintenance period, all players will receive a mandatory game update of around 5-8GB, depending on platform. In addition to that, all players with access to Episode 6 will be able to start downloading it. We expect the total download size for both updates to be approximately 12-14GB. After completing both downloads, players will have access to the location when the server maintenance ends, scheduled to be 15:00 CET. We hope it will be earlier.

Episode 6: Hokkaido Overview
New Destination: Hokkaido, Japan.

New Story mission: Situs Inversus

7 new Guided Opportunities for "Situs Inversus"

20 levels of Hokkaido Mastery, with the following unlocks:

9 new Hokkaido 'Starting Locations'

7 new Hokkaido 'Agency Pickup Locations'

6 new weapon/gear unlocks

New suit for Hokkaido: VIP Patient

70+ Hokkaido-specific challenges

7 new trophies/achievements

New 'The Sarajevo Six' Contract. Target 6: The Controller. (PlayStation 4 Exclusive)

Note: Agent 47 starts in Hokkaido with a limited loadout. Upon reaching Mastery level 20, the full loadout will be available.
Live Content for Hokkaido will include: New Escalation Contracts, Elusive Targets and New Featured Contracts (Contracts Mode)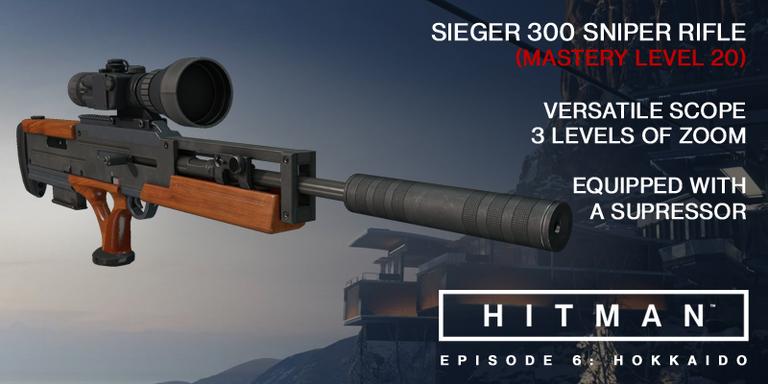 Episode 6: Hokkaido Release Notes

General Improvements
Target Images on Loading Screen
The images of targets are now shown on the loading screens. These are not shown for Escalation Contracts and other objectives are not displayed.
Checkmarks added to Target Kill Conditions
When viewing the objectives for a contract, targets will now have a checkmark next to the optional kill conditions for weapon and disguise to indicate if they have been achieved, or not.



Debriefing Screen shows Objectives Information

The scoring screen now displays a count of how many objectives have been completed. Example: "All objectives completed (8/9)"
Improvements to Gear and Weapon Lists
Gear and weapons are now listed in categories, rather than tabs. This should make it easier to find specific items. This can be seen when viewing the Loadout, Career and Agency pickup pages.

Mini Map 'North' Indicator
Added a new option that allows players to toggle a 'North Indicator' on the mini-map.
The HUD now displays a detailed 'Visibly Armed' status
The game now shows which item or weapon is considered to be 'illegal'.
Kill Types in Inventory
The in-game inventory now displays the kill condition of each item. For example, a screwdriver will show 'Lethal Melee' and 'Lethal Throw'. This is useful for identifying which item can be used for specific kill condition requirements.
Contracts Mode - Tagging Targets
When creating a Contract, it is now possible to unmark a target from the Notebook page. This is to allow players to unmark a target that may have been bodybagged or otherwise unable to be unmarked using the in-game camera view.
Contracts - My History
Players can now see all the contracts that they have played, sorted by most recently played, in a new 'My History' menu.
'Contracts' Page Adjustments
The Contracts Tab has been adjusted to only show options for Contracts Mode. As such, Escalation Contracts, Elusive Targets and Sarajevo 6 (PS4 only) have been moved to the respective page in the 'Destinations' Tab. Elusive Targets can also be viewed as a group via the 'Career' tab.

Featured Hub Adjustments
The Featured Hub will now display the most recently played Story Mission, rather than the most recently released Story Mission.
General Menu/UI Improvements
Added general improvements to displaying content in the menus, across the game.
Improved performance with Suspend / Standby modes on consoles
Reconnecting to the game's servers after the console has previously been in a suspend or standby state for an extended time will be more consistent.
General fixes related to initial server sign-in
Fixed an issue that was frequently causing players to 'timeout' when attempting to connect to the game servers. Typically, this was affecting players that frequently restarted sessions in quick succession.
Fixed Issues
Fixed an issue that could cause opportunity steps to remain on screen when switching between opportunities.

Fixed an issue where General Zaydan would sometimes not react to Strandberg's dead body. [Marrakesh, A Gilded Cage]

Fixed a naming inconsistency in the Lydon Gyration Escalation Contract.

Fixed an issue where 47 could get stuck in the environment after loosing the valve on specific gas tanks. [Freedom Fighters, Colorado]

Fixed an issue where 'subdue' and 'inject poison' prompts could overlap.

Fixed issues that could occur after loading a save during the combat state.

Some sounds were still audible when all sounds were muted in the menu. Now they are not.

Fixed various issues on multiple locations that could cause NPCs to 'teleport' when performing specific actions.

Made adjustments to opportunities in Paris, so that the reveal and actions of NPCs are more consistent with expected behaviour.

Fixed an issue with 'Down the Rabbit Hole' opportunity in Marrakesh that would prevent it from being completed.
Next Update
We are already close to releasing another game update within the next few weeks, hopefully earlier. This update will include a new reward system for Elusive Targets. There will be more suit unlocks and new ways to unlock them. All of these details, as well as release notes will accompany that update.

November Content Schedule
Following the release of Episode 6: Hokkaido, we will continue to release live content across all locations. Elusive Targets, Escalation Contracts, Featured Contracts and Challenge Packs are all in the pipeline and to give you an idea of our plans at this stage, the November Content Schedule shows everything that is coming throughout the month.

We start with a bang. On November 1st, the day after Episode 6 launches, we will release Elusive Target #13 and continue from there with a strong line-up of varied content. More Elusive Targets, an Escalation Contract and 20 Featured Contracts are coming your way.